Who Are The Friends of Fred Smith?
Founded in 1995, the Friends of Fred Smith, Inc, exists to support the Wisconsin Concrete Park in cooperation with Price County.
We have a mission:  to preserve the  Wisconsin Concrete Park and all its resources— including sculptures, landscape, and historic Smith Family House— and to maintain and develop it as a public educational and cultural facility.
We have a vision: we strive to provide to the public a cultural, historical and artistic resource which has the capacity to broaden our views, expand our individual potential, and bring people together for the common good.
We have values:
Relationships: Strong, positive and transparent collaborations with our partners in communities throughout Price County and surrounding areas, and with our supporters throughout the world, form our operational foundation.
Preservation: We are the stewards of the Wisconsin Concrete Park and the artwork of Fred Smith, as well as the conservators of the historical, cultural and natural environment of the park.
Discovery: Fred Smith's legacy symbolizes art as inspiration. Providing opportunities for individuals to discover his/her own personal artistic expression enhances the quality of life for everyone in the communities we serve.
We have an awesome operations manager! Ann Grzywnowicz works cheerfully and tirelessly to manage all our activities and daily operations.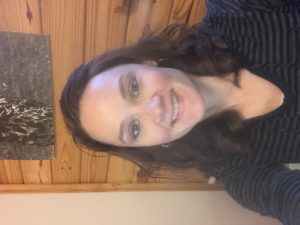 We're governed by a board of directors. Here's who we are: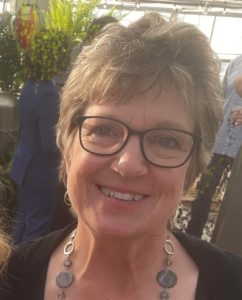 Marjory Brzeskiewicz
Marjy is currently our Friends of Fred Smith board president. She became involved in FoFS and Concrete Park back in about 1995. She started by helping create a self-guided nature trail at the park, and says that working on special programs throughout the years was fun. When Marjy retired from her Forest Service job in 2021, she, along with her husband, started visiting some of the other art environments in Wisconsin. Fred Smith was in good company when he created his unique pieces! The Park is enjoyable in any season. Come visit; and be a "Friend of Fred"!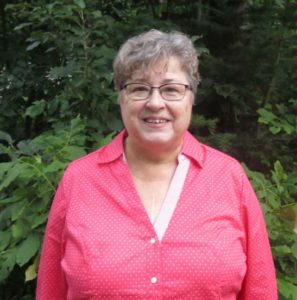 Jeannie Klimowski
John Klimowski
Gay Marschke
Gay was originally attracted to the park because of the history of the area. As a founding member of the Friends of Fred Smith, her dedication to the health and well-being of the park has been long-standing for many years, first as treasurer, then as president, now as a board member. Her leadership has been integral to the development of educational programming as well as to the ongoing preservation of the statues.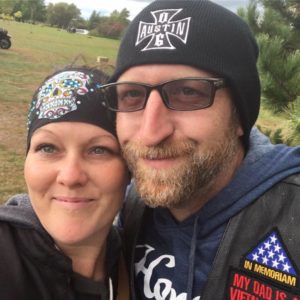 Janie (Emerick) Boho
Janie is married to Wayne Boho, Great-grandson of Fred Smith.  They have 3 children and 5 Grandchildren.  Janie has lived in Phillips for 18 years, and her occupation is Hospitality Leader for Barry-Wehmiller/Four Seasons Hospitality, which she started in 2012.  Her passion is family, traveling and organizing! (Aka cleaning) and she absolutely loves being part of the FOFS family!! Janie is going on 4 1/2 years as a BOD member, about 4 years on the Tavern committee.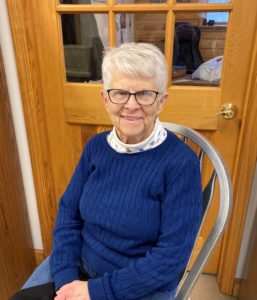 Etola Foytek
Etola is a retired teacher from the Phillips school district. She became involved with the park in 2002 when she joined the Countryside artists at the Historic house gallery and gift shop, and now manages the CSA operations. Etola has been on the FoFS board since 2018, and enjoys volunteering during events, helping out at park clean up days, and attending workshops!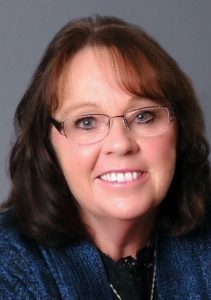 Mary Jean Peterson
Originally a founding member of the Friends of Fred Smith, Mary Jean came back to the board in late 2018.  She is currently serving as treasurer and has a background in business management, including human resources, quality assurance, materials management, inventory control and lean principles.   She says, "The Friends of Fred Smith have a renewed interest and enthusiasm level that makes this an exciting time to be a part of the Friends and the Park.  Although I am semi-retired, my husband and I are very active in our church and community. We love most all outdoor activities, including fishing, hunting, hiking, and just enjoying nature. My background includes 11 years as Human Resources Manager for Blount, Inc., in Prentice and 14 years as Quality Assurance/Materials Manager at Northcentral Telcom, also in Prentice. As an adjunct instructor for Northcentral Technical College, I can stay connected with businesses and provide training in leadership and many other areas."
Terri Yoho
Terri is the Executive Director of Kohler Foundation, Inc., an organization that supports the arts, education, and charitable initiatives throughout Wisconsin. She has held this position since 1999. In addition, Terri is the administrator of the Kohler Trust for Arts and Education, a strong supporter of the John Michael Kohler Arts Center, and the Kohler Trust for Preservation, which supports the Wisconsin Historical Society, Nature Conservancy, Aldo Leopold Foundation, and other named beneficiaries. Through Terri's efforts Kohler Foundation, Inc. has provided generous support for many Friends of Fred Smith initiatives and activities.
Alan Barkstrom
Bob Kopisch
Eva Reilly
We have honorary board members, our best friends!

Sally Nez
Sally was employed by the Friends of Fred Smith for a short time in 2012. In 2017, she returned as a volunteer and is always working around the park on statue preservation, gardening, cleaning/organizing, and assisting in park events and projects!
Lisa Stone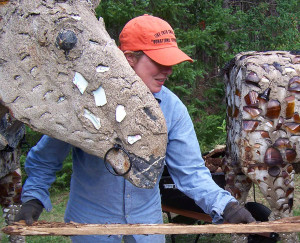 Lisa was curator of the Roger Brown Study Collection and Adjunct Associate Professor in the Department of Art History, Theory, and Criticism, both at the School of the Art Institute of Chicago. She focused on the preservation and interpretation of artist's environments and collections.  She worked on a garden/ruin in Spring Lake, Wisconsin and with Don Howlett operated Preservation Services, Inc. Lisa was a founding member of the Friends of Fred Smith and has been imperative in the conservation efforts of the Concrete Park throughout the years.
Robert Amft (1916-2012)
Bob graduated from the School of the Chicago Art Institute in 1939 a and went on to a long career as a prolific painter, sculptor, photographer, and designer. He met Fred Smith and discovered the Park, we believe, in the early 1950s. Bob made outstanding photographs of Smith's works over many years. He generously donated his extensive Wisconsin Concrete Park archive to Friends of Fred Smith.
Pete Bartelt

Pete was the Price County forest and parks administrator from 1975-2012. He oversaw and maintained 90,000 acres of the Price county forest, as well as 10 county parks (including the Wisconsin Concrete Park). As a student at Phillips school, Pete would see the park through the school bus window and was always impressed with Fred's incredible work ethic. His first time at the park in a working capacity was July of 1977 just after the downburst. He recognized how important this unique park was to our local economy, and wanted to maintain and preserve it. However, he didn't have the resources or expertise so he worked tirelessly with the Kohler Foundation, Lisa Stone and Don Howlett to get the park back to order. Through his years at the county, Pete was an essential person in keeping the park going, and the formation of the Friends of Fred Smith.
Don Howlett
Don is an artist and preservationist who has worked on restoration and conservation at the Wisconsin Concrete Park since 1977. He has pioneered the field of preserving art environments, especially works of masonry and embellished concrete. He operated Preservation Services, Inc. In spring, summer, and fall he can be found in his garden in Spring Lake, Wisconsin. He was also a founding member of Friends of Fred Smith.
Ruth DeYoung Kohler
Ruth DeYoung Kohler (1941-2020) began her career teaching art in several schools in Beloit, then joined the faculty of the University of Alberta-Calgary (now the University of Calgary), Canada, where she founded the printmaking department.   In 1968, she was appointed the John Michael Kohler Arts Center's first assistant director. She was named the Arts Center's third director in 1972 and provided the guiding artistic vision until 2016. During her directorship, she founded and built the Arts Center's collections of the work of vernacular environment builders and self-taught artists. She initiated the Arts/Industry program and other residencies that emphasize the creation of new work and meaningful connections between artists and public. She took the lead in the development of the Connecting Communities program of collaborations at the Arts Center. Ruth was unparalleled in her championing the genre of vernacular art environments and collaborating with Kohler Foundation, Inc. on the landmark preservation of many sites in and beyond Wisconsin. She initiated the preservation of the Wisconsin Concrete Park in 1976 and was always one of the Park's most ardent and generous supporters.
Douglas Moquin
Anton "Tony" Rajer (1952-2011)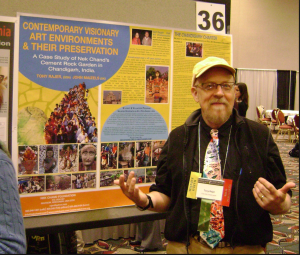 Tony was a founding board member and served on the conservation committee for many years. Tony was an accomplished art conservator who worked internationally and specialized in works by self-trained artists. He was Project Conservator to the restoration of the Wisconsin State Capitol, Madison, Wis., and Project Director for SOS! (Save Outdoor Sculpture) Wisconsin Chapter. He co-authored "Public Sculpture in Wisconsin: An Atlas of Outdoor Monuments, Memorials, and Masterpieces in the Badger State" in 1999. He brought classes from the University of Wisconsin–Madison to work at the Wisconsin Concrete Park, and was passionate about the site.

Jill Smith (1965-2023)
Jill was a founder of Friends of Fred Smith who devoted much time on restoration and conservation projects at the site, from 1987 to 2003. Her many talents include tailoring, making things with her hands, and caring for people. Jill lived with her husband Rick in Appleton, Wisconsin.
Jim Zanzi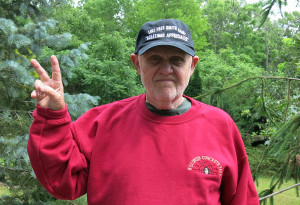 Jim is a true friend of Fred Smith's. He met Fred in his youth, and as professor at the School of the Art Institute of Chicago (he's now professor emeritus), he took countless artists to visit the Wisconsin Concrete Park. Jim made many outstanding photos of the Park in the years Fred was making sculpture. Jim is a founding member of Friends of Fred Smith. He works on gardens and architecture in Spring Lake and Mineral Point, Wisconsin.
Founding board members at the first board dinner, January 1995
Founding Members: Front row: Mary Satterwhite, Gay Marschke, Jean Klimowski, Jill Smith. Standing: Therese Trojak, Doug Moquin, Pat Schroeder, Lisa Stone, Pete Bartelt, Mary Jane Peterson, Mia Hieronimus, and Tony Rajer
We have committees! Executive, Promotional and Educational Programming, Finance, Conservation, Building and Grounds, and Membership.
We have members! Fred Smith would be thrilled to know that we have members from all over the country and internationally. Members know that their donations and volunteer work assist in preserving the art of Fred Smith.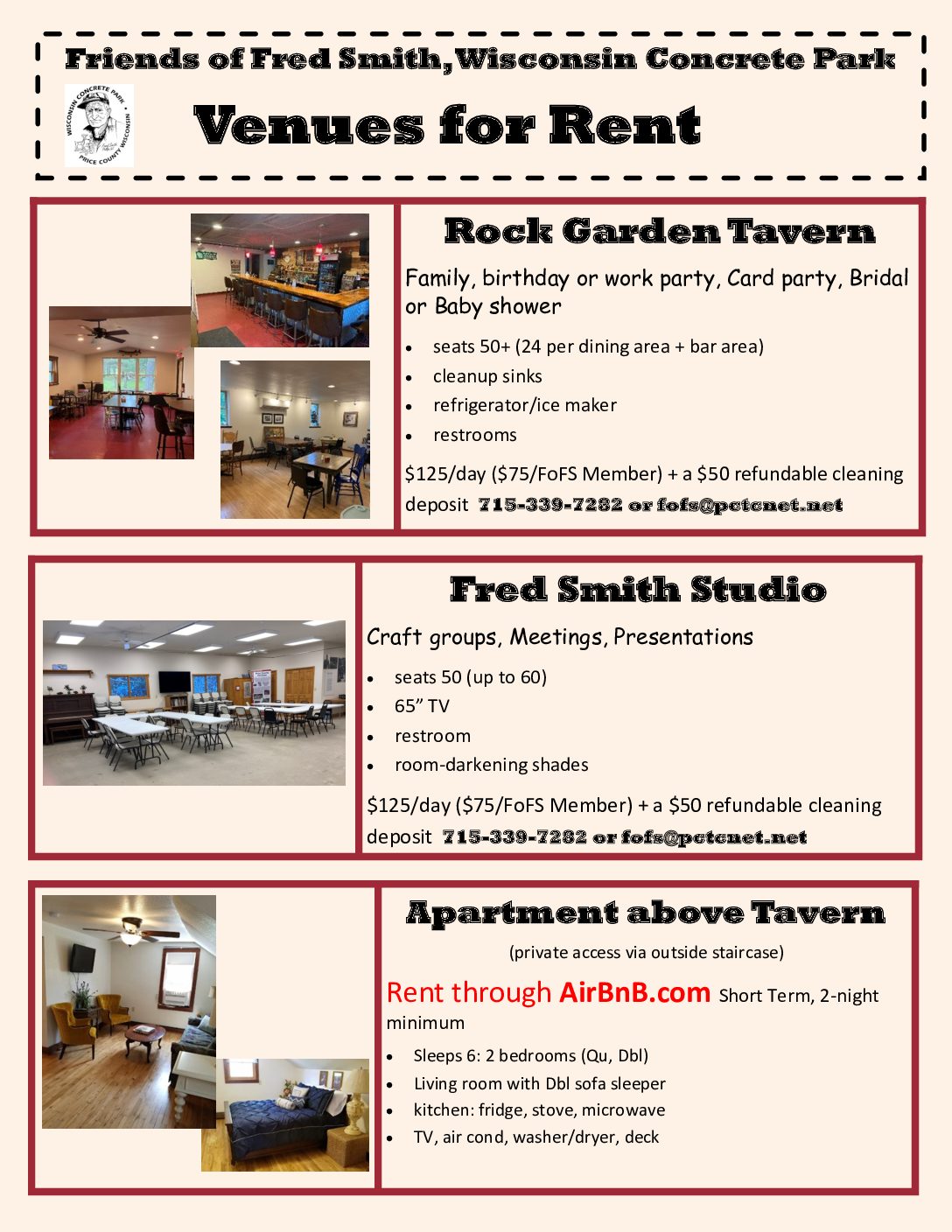 Building Rentals
The Rock Garden Tavern (located on Hwy 13 south of the concrete park) and Friends of Fred Smith Studio building (located in the back of the park) are both available to rent for your private party or meeting.  There is a nominal fee and a rental agreement required. Please contact the Friends of Fred Smith Manager for more information at 715-339-7282 or fofs@pctcnet.net.
Become a member of Friends of Fred Smith!
The FoFS is a volunteer non-profit, 501(3)(c), whose mission is to preserve the sculptures at the Wisconsin Concrete Park and to develop the park as a public educational and cultural facility.
Your membership supports:
Conservation and preservation of Fred Smith's sculptures, all 237 of them
Educational art, cultural, and environmental programming offered at the Park
Community cultural outreach efforts and events
A community art and culture center fully accessible to the public
Promotion of the Wisconsin Concrete Park nationally and internationally
Advocacy for the arts in the region and across Wisconsin
The Park as a major tourist destination supporting the local economy
Membership Benefits
Discounts on building rentals
FoFS newsletter
FoFS postcard
Opportunities to become involved with educational and volunteer projects
You'll feel great knowing you're supporting the preservation of the Wisconsin Concrete Park!